NATIONAL PARK SERVICE (Alaska Region office located in Anchorage)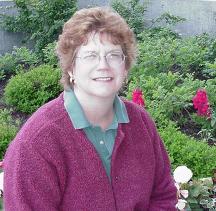 Marcia Blaszak - Alaska regional director - Took over September 2003. Anchorage Daily News interview (7/18/04). She has been at the park service in Alaska since 1994 working in Anchorage Headquarters, most recently as Deputy Regional Director since Feb 2002 and before that was an administrative officer at Yellowstone NP. She apparently was in South Florida in 1992. She's been in Alaska since 1995 and had managed the NPS support office in Anchorage, with about 200 employees working for her. She has more than 30 years working for NPS. (907) 644-3510 ; fax (907) 644-3816 Marcia_Blaszak@nps.gov

Robert Arnberger - Former Alaska regional director - He retired at the end of August, 2003. He was at Buffalo National River (Arkansas) at the time that serious abuses of NPS condemnation authority were devastating these local Ozark mountain communities but it was early in his NPS career. Recent ALRA investigation and interviews in Arkansas have not yet located evidence that he had involvement in the abuses.
WRANGELL-ST. ELIAS NATIONAL PARK (headquarters office located in Copper Center) Staff list.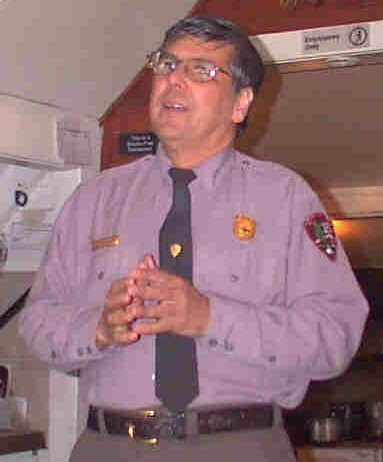 Gary Candelaria - Superintendent - gary_candelaria@nps.gov Bio from the November & December 1999, Wrangell St. Elias News:
We are happy to introduce the new Superintendent, Gary Candelaria. Gary is a 24-year NPS career employee. Born in Los Angeles, CA, he escaped at an early age to attend Oregon State University where he earned a B.S. in Forestry. He later earned a Masters Degree in museum studies at the University of Oklahoma. His NPS career includes service at Saratoga National Historical Park, NY, Ozark National Scenic Riverways, MO, and 11 years as Chief Ranger at Sitka National Historical Park. He left Alaska in 1990 to become Superintendent at Fort Laramie National Historic Site, WY. He served as Aide-de-Camp to then NPS Director Roger Kennedy, and as Acting Assistant Superintendent at Santa Monica Mountains National Recreation Area. Most recently he was superintendent at Pinnacles National Monument, CA. Candelaria is an avid reader and book collector, as well as an aspiring bookbinder and amateur historian.
Since that initial good will expressed from McCarthy, Gary has made quite the record for himself in Wrangell-St. Elias National Park! Photo: WRST Superintendent Gary Candelaria speaks to irate crowd in McCarthy on 4/18/03 (Wrangell-St. Elias News).
Gary Candelaria quote: "The Pilgrims have broken the law, openly, deliberately, repeatedly." Just one of the astoundingly unprofessional diatribes by this senior NPS manager! PLEASE NOTE: Mr. Candelaria, "the Pilgrims have not been charged with any crime, there has been no trial, nor have they been found guilty by a jury or judge." wrote the Wrangell-St. Elias News in: WRST Superintendent defames Inholders in "Open Letter", July & August 2003 p. 15-16.
Rita Pregana, a ranger from Lowell NP has come to Copper Center for a month to learn at Gary Candelaria's feet in the Mid Level Intake Program, management development training designed to enhance competencies needed to become a more effective manager and leader. Is Gary going to use his Pilgrim letter as a textbook example of the good community relations his boss Interior Secretary Gale Norton talks about below? ...of his immediate boss NPS Director Fran Mainella's beliefs, "It can't be that the NPS just wins...she would like the NPS staff to spend more time working with the community."
Most outside observers would consider his departure from Alaska as being under a cloud, yes...even disgraced. But NO! He's a hero to the NPCA and the National Park Service. They give him accolades and awards!! NPS-WRST Official Press Release AkLRC Archive copy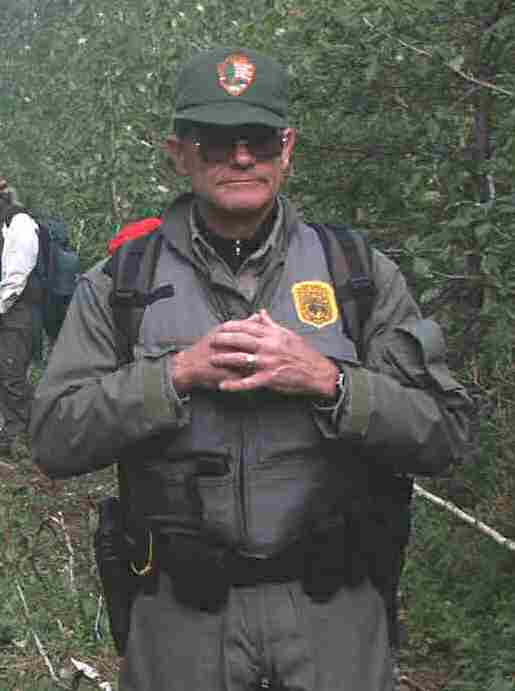 Hunter Sharp - Deputy Superintendent and Chief Ranger - How do you become the "best ranger" in the NPS? It's not easy, but that is exactly what Hunter Sharp is being considered by his peers in the NPS. Vice President Dick Cheney presented Hunter Sharp with the Harry Yount National Park Ranger Award, April 27th, 2001. Hunter Sharp's career in the NPS has spanned 27 years According to Superintendent Gary Candelaria, "Hunter's career has been the perfect example of increasing challenge, responsibility, skill, and experience, and sterling performance." Ranger Sharp leads by example and his skills and knowledge of the park ranger profession. Hunter has served as a role model and mentor to many men and women pursuing ranger careers. "Hunter has in every way and at every opportunity shown himself to be the epitome of what it means to be a National Park Service Ranger." Hunter_Sharp@nps.gov 907-822-5234.
HUNTER SHARP FIELD OPERATIONS ACTION! 2003 McCarthy Creek valley campaign against the Pilgrim family (Wrangell St. Elias News); Photo
Devi Sharp - Wildlife biologist and Chief of Natural and Cultural Resources. Wife of Hunter Sharp. See bio below under "damage assessment team" personnel. Occupies office directly across the hall from husband Hunter Sharp. devi_sharp@nps.gov 907-822-5234.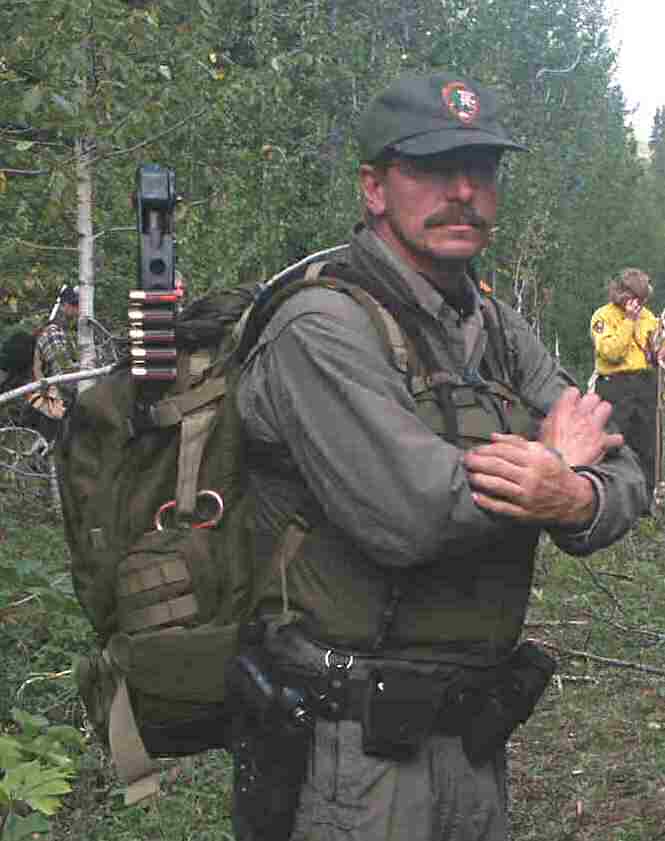 Marshall Neeck - Kennecott District Ranger (based from Copper Center) - Apparently moved to Alaska about 4/02. Although he is the Kennecott District Ranger he apparently lives over 130 miles away in Gakona. marshall_neeck@nps.gov (907) 822-7294, married to Park Planner, Vicki Snitzler-Neeck.
Vicki Snitzler-Neeck - Park Planner - (907) 822-5234, married to Ranger Marshall Neeck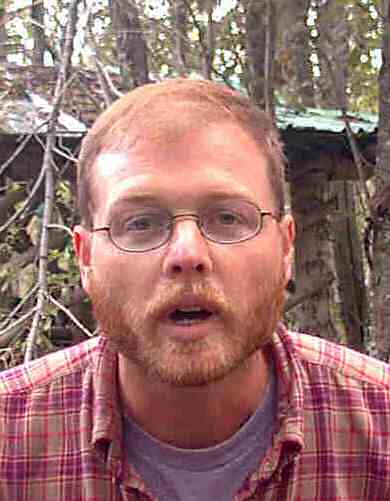 Stevens Harper - NPS Ranger living in McCarthy for the first time in 2003. Reportedly came from King cove; possibly a ranger there??? Usually seen aiming a video camera at local residents. See 2003 McCarthy Creek valley campaign against the Pilgrim family (Wrangell St. Elias News); Photo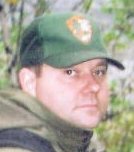 Stephen Rooker - NPS Ranger who, to harass the Pilgrims, made false charges against Mama Country Rose -- forcing her to leave her family and go all the way to Anchorage for a court appearance, only to learn that the charges were dropped.







Pat Naville - NPS Ranger who usually refuses to disclose his name; he routinely conceals his name badge.

Tom Betts - Chitina district ranger & pilot

Richard Larrabee - NPS Ranger who hid out in the trees spying on the Pilgrims while the sting operation against Country Rose and Joshua was done. Angered local people bulldozed the hill off and removed the trees to prevent similar future NPS spying.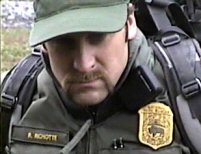 Richard Richotte - Local residents report that he acts in the most professional manner of the NPS rangers. In communication he is straight forward when he can be and not compromise a specific NPS mission. The other rangers are needlessly "juvenile" and provoking in their word games and actions.
Scott Taylor - Special Agent Alaska Support Office - 907 644-3415 Scott_Taylor@nps.gov His role is unknown. He attended all the trials and court hearings on the NPS harassment criminal persecutions in December 2003 as well as the proceedings in the PLF case before judge Beistline.
NPS "DAMAGE" ASSESSMENT TEAM "OLOGISTS" (8/03)
Obscene amounts of taxpayer money has been spent by the NPS deploying this group up and down the McCarthy Creek valley trying to find evidence to get the Pilgrim family. Heavily armed rangers apparently under the command of Hunter Sharp (above) and Marshall Neeck participating along with rangers Stevens Harper, and ???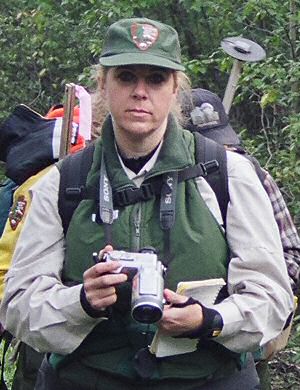 Karen Battle - She appeared to be the senior manager giving orders to the crew. She reportedly is out of Georgia (Atlanta?) and appears in various NPS criminal investigations normally billed as a biologist. All of the investigations known to ALRA involve marine incidents in Florida and the Southeast. In 12/00 she was based out of Homestead Florida and was with Biscayne National Park from 96 to 98. karen_battle@nps.gov
She has given a Workshop on Park System Resource Protection Act Training She may have something to do with the NPS Environmental Response, Planning, and Assessment Division. She was a key contact "in the largest settlement ever under the Park System Resources Protection Act (PSRPA), Biscayne National Park will receive $1 million to cover costs associated with the November 1996 grounding of the vessel M/T Igloo Moon." PSRPA (16 USC 19jj) authorizes recovery of costs associated with injuries to National Park Service resources. It has been used in other national parks to recover damages in cases ranging from trees injured by motor vehicles to aesthetic losses from a helicopter crash.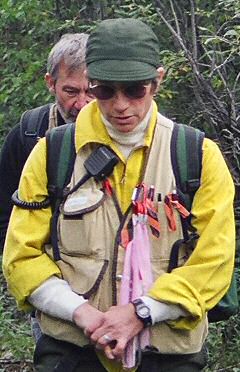 Devi Sharp - Wildlife biologist and Chief of Natural and Cultural Resources. She is wife of Hunter Sharp, Deputy Superintendent and Chief Ranger (see above). "Our park scientists are used to living on crumbs," she told Audubon Magazine when asked about the Bush budget.

Audubon Magazine (9/01): The Bush budget won't provide enough help for the scientists at Alaska's Wrangell-St. Elias National Park and Preserve to assess the park's plant and animal populations. "It's awfully difficult to manage an ecosystem if you don't know what you have," says Devi Sharp, chief of natural and cultural resources at the vast park (six times the size of Yellowstone and the nation's largest). Freshwater fish and small mammals (largely rodents) go under the microscope this summer, but much of the park's wildlife remains uncatalogued. "We could use a lot more money to do the job" of taking an inventory of park flora and fauna, Sharp adds.

Occupies office directly across the hall from husband Hunter Sharp and they also work together in the field! She is on the KCHU (public radio for the Copper River Basin) advisory board for Copper Center, which "advises the KCHU staff on programming and needs. They are KCHU's ears in the community and they will be happy to hear and pass along your criticisms, comments, and suggestions." devi_sharp@nps.gov 907-822-5234.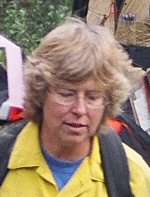 Page Spencer - Environmental Specialist based out of Anchorage NPS headquarters

Danny Rosenkrans - Geologist with NPS in Copper Center

Neil Hannan - NPS used to run the Chitina ranger station

Geoffrey Bleakley, PhD - NPS Staff historian. His main projects at WRST include documenting the administrative history of the park and managing the historic significance and integrity and determines eligibility for the National Register program for the park and works with local communities on nominating sites to the National Register of Historic Places.
U.S. DEPARTMENT OF THE INTERIOR - National Park Service is part of and is supervised by this presidential cabinet secretary
Gale Norton - Secretary of the Interior, a lifelong conservationist, public servant and advocate for bringing common sense solutions to environmental policy, was sworn in as the first woman Interior Secretary in January 2001. Norton has made what she calls the Four C's the cornerstone of her tenure: Consultation, Communication, and Cooperation, all in the service of Conservation. At the heart of the Four C's is the belief that for conservation to be successful, the government must involve the people who live and work on the land. gale_norton@ios.doi.gov
Judge Craig Manson - Assistant Secretary for Fish and Wildlife and Parks. He was nominated by President George W. Bush on September 4, 2001 and unanimously confirmed by the United States Senate on January 25, 2002. He oversees the National Parks Service and the United States Fish and Wildlife Service. Mr. Manson previously served as a judge of the Superior Court of California in Sacramento from 1998 to 2002. Craig_Manson@ios.doi.gov (202) 208-5347
Drue Pearce - Senior Advisor for Alaskan Affairs to Secretary of the Interior Gale Norton (based in Washington DC). She was the former President of the Alaska State Senate and she oversees Interior's broad range of responsibilities to the citizens and lands of the nation's largest state. Drue_Pearce@ios.doi.gov (202) 208-4177

Cam Toohey - Special Assistant for Alaska to Secretary of the Interior Gale Norton (based in Anchorage) (907) 271-5485 ; fax (907) 271-4102 Cam_Toohey@ios.doi.gov

Earl E. Devaney - has served as the Inspector General for the Department of the Interior since August 1999. Mr. Devaney has since transformed the Office of Inspector General into an innovative organization dedicated not only to detecting fraud, waste, abuse and mismanagement within the Department of the Interior, but also to assist the Department in identifying and implementing new and better ways of conducting business. Earl_Devaney@oig.doi.gov
Fran Mainella - Director, National Park Service. She visited McCarthy on 8/5/02. She is the first woman appointed as Director of the National Park Service. She was executive director of the Florida Recreational Park Association, and then was director of the Florida Park Service. The Wrangell-St. Elias News talked with Fran about relations between the community and the Park Service. Mainella said she wants to concentrate on the concept of partnership. "Everything needs to focus off of partnerships and we want to make everything a win, win," said Mainella. "It can't be that the NPS just wins or the partner just wins; it needs to be a win, win on all sides which means it takes time and energy to work on those relationships. "Fran said she would like the NPS staff to spend more time working with the community."
OFFICE OF THE REGIONAL SOLICITOR - These are essentially the in-house attorneys for the National Park Service, Fish and Wildlife Service, Bureau of Land Management etc. They do not handle criminal matters or civil litigation but rather contracts, permits and general legal work for Interior Department agencies.
Lauri J. Adams - Regional Solicitor for Alaska - She was formerly with the Sierra Club Legal Defense Fund as their regional director in Juneau and later as the director of their International Law Program in San Francisco. She has had past experience hammering Alaska national park inholders and taking away their ANILCA rights. Good friend of Debra Williams, Bruce Babbitt's representative in Alaska. Her Sierra Club award (see page 6) A day in her life as Regional Solicitor.

Chris Bockmon - Staff Attorney - At a meeting with NPS Regional Director Arnberger, Bockmon stated that all ANILCA permits ever done by NPS went through him. (907) 271-4131 ; fax: (907) 271-4143
Chandra Postma - Staff Attorney - 12/03: Prosecuted Joshua and Joseph Pilgrim in Anchorage federal district court for the NPS harassment citations for entering the only tunnel that allows access to their mine and giving horseback rides on a road.
U.S. DEPARTMENT OF JUSTICE
ENVIRONMENT AND NATURAL RESOURCES DIVISION - Has primary responsibility for federal civil litigation: Prevention and Clean Up of Pollution; Environmental Challenges to Federal Programs and Activities; Stewardship of Public Lands and Natural Resources; Acquisition of Property for Federal Needs; Wildlife Protection; Indian Rights and Claims. (907) 271-5452
Tom Sansonetti - Assistant Attorney General for the Environment and Natural Resources Division (based in Washington DC). Prior to arriving at ENRD, Mr. Sansonetti was a partner in the Cheyenne office of Holland & Hart, where he specialized in natural resource and environmental law. Over the years, his legal practice has encompassed a diverse range of matters involving, among other things, water law, the Endangered Species Act, surface mining, Indian law, natural resource damage assessments, takings, public lands management, and Superfund.
Bruce Landon - Trial Attorney - He has made a personal visit to the scene of the "damage" assessment team deployment at the Pilgrims' home on McCarthy Creek.
Regina Belt - Trial Attorney - She has made a personal visit to the scene of the "damage" assessment team deployment at the Pilgrims' home on McCarthy Creek.
OFFICE OF THE U.S. ATTORNEY - NPS criminal prosecutions would originate here.
STATE OF ALASKA
Frank Murkowski - Governor, Former U.S. Senator -
ALASKA DEPARTMENT OF NATURAL RESOURCES
Bob Loeffler - Director, Division of Mining, Land and Water (907) 269-8600 bob_loeffler@dnr.state.ak.us
ALASKA DEPARTMENT OF FISH AND GAME
Tina Cunning - ANILCA access specialist - (907) 267-2248 tina_cunning@fishgame.state.ak.us
For More Information Contact:
American Land Rights Association
Tel: 360-687-3087
FAX: 360-687-2973
[_private/navbar.htm]
Send mail to alra@pacifier.com with questions or comments about this web site.
All pages on this website are ©1999-2001, American Land Rights Association. Permission is granted to use any and all information herein, as long as credit is given to ALRA.