Private Property Assault
New Obama Wildlands Program New Obama Blueways Program
Click here for our latest email
Forbidden Books in The NPS
Click here to read the National Parks Traveler article

Sally Jewell new Secretary of Interior
Click here for our latest email

Stop EPA,Corps From Removing "Navigable" From Clean Water Act
Click here for our latest email
Stop Senate Omnibus Federal Lands Bill
Click here for latest email
Huge Obama Land and Water Jurisdiction Grab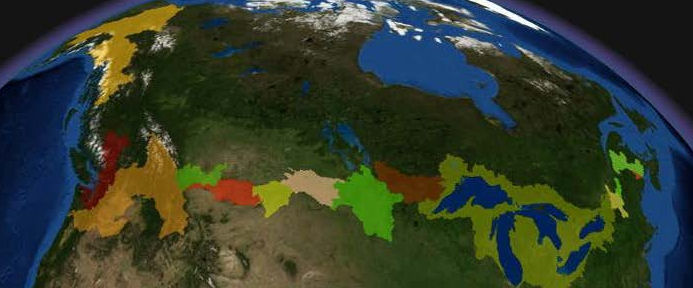 Click here to read our latest email
Click here to read the report from the
International Joint Commission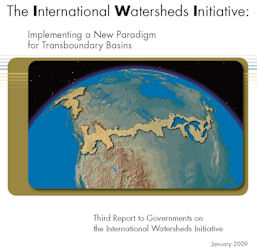 Range Magazine: Hage Forage Right Trial Ends With BLM and U.S. Forest Service Employees Found in Contempt
Read the press releases:


Range Magazine Ramona Hage Morrison (photos)

Government's Shocking Interference in Rancher's Life The Foundry: Conservative Policy News Blog from The Heritage Foundation

May 23, 2012 - Henry Lamb, Rest In Peace

FDIC Lennar Congressional Oversight Hearing: YouTube

May 16, 2012 FDIC Lennar Oversight Hearing Testimony by American Land Rights

Here is testimony that when taken together are an extremely well written indictment of Lennar, Rialto and the FDIC. It will help you understand the reasons why the FDIC structured partnership process must be brought to a halt and the nationwide attack on personal assets by FDIC and Rialto must be stopped.


Click here for testimony from Todd Chrisley (pdf)
This is the second of two testimonies regarding Lennar, Rialto and FDIC. Taken together with the testimony from American Land Rights the two documents give an outstanding overview into the nationwide Bank Closure and Foreclosure victim process by FDIC.
---
Massive LWCF Land Acquisition Funding Passes Senate
Urgent Action Required: April 26, 2012
Land and Water Conservation Fund (LWCF) Goes To House-Senate Conference Committee as part of the massive Highway Bill.

Huge increase in land acquisition funding must be stopped.
Here are the phone numbers, fax numbers and e-mail addresses of all the Conferees staff members.

Download this e-mail and forward to all your friends.
Willing Seller, A Myth

Other background: e-mail, full Amendment and list of votes
Senate transportation bill funds more federal government land grabs - by Rebekah Rast
---
Private Rights Protection Act Of 2012 (HR 1433)
---
FDIC, Lennar, Rialto
Wall Street Deals Killing Jobs And Undermining Recovery
---
Lennar Denied Membership In Builders Association
read The Oregonian article here
---
Herrera Beutler Continues Push for Answers on Bank of Clark County Fallout, Rialto
Jaime asks financial oversight committee to examine FDIC loan sales to Rialto
Click here to read the press release
The Columbian Newspaper: Herrera Beutler seeks hearing on FDIC's loan sales
Loans were from failed financial institutions, including Bank of Clark County
Click here to read the article
---
January 16th, Columbian Newspaper Front Page Story About Chuck Cushman And FDIC Lennar, Rialto and Multibank Corps Bank Closure Victims.
Click here to see entire article. html pdf
---
Read Attorney Bryan Knight's Lennar Realty Analysis of Bad Incentives (FDIC Lennar Rialto Bank Closure Victim Deal)
Click here to read the latest Press Release
Click here to read 9/7/2011 Press Release
Click here to read ALRA Congressional Testimony
Read these Victim Statements Part 1 and Part 2
Obama FDIC Bank Closure Policies and FDIC Authorized Aggressive Tactics By FDIC Wall Street hedge fund partners (such as Lennar Corporation, Rialto, Multibank and other similar companies) are destroying jobs, small businesses, and communities plus holding back economic recovery and job creation
FDIC and Lennar Bank Closure and Foreclosure Victims Nationwide Lost Jobs and Land Grab Scandal
Read our recent email alerts
email Part1 email Part 2

Read more at www.reactioncommittee.com
and www.Netrightdaily.com
---
MASSIVE OBAMA WATER AND LAND GRAB
New EPA - Corps Wetlands Regulations Expand Power and Threaten Your Land!

Call Congress To Cut Funds For EPA Corps Wetlands Regulations
Key Senate Clean Water Act Wetlands Vote Expected Shortly: Details
Click here to read our latest email
For the latest E-mail and instructions as well as the EPA address to e-mail or send printed Comment Questionnaires: Click here FIRST and then here SECOND. These e-mails have an unformatted sample comment questionnaire for you if you want to to easily E-MAIL your comments to EPA.
Alternatively, if you want to print off, fill out and MAIL your comments instead, here are two slightly different formatted sample comment questionnaires. Use only one of: #11 or #12 The only difference is a few of the statements at the bottom. To get the address to mail these formatted versions, be sure to read the latest e-mail above.
---
---

Vast Expansion of Corps of Engineers and EPA Regulatory Power!
We call this bill the Corps of Engineers and EPA Wetlands Land Grab Bill
Here are the BEFORE and AFTER regulatory control maps if HR5088/S787 pass:



It's a national takeover: Click on the map above!
DOCUMENT UNCOVERED FROM THE GREEN LAND GRABBERS:
The Oberstar "White Paper"
Executive Summary Complete Document
---
Obama's America's Great Outdoors Initiative
Here is the Obama Administration planning process for new National Monuments and millions of acres of Federal lands and the eminent domain of private lands.
Administration holding "listening sessions" across America

You get to vote and make comments on their website so don't miss out.

Click Here for latest e-mails and instructions.
---
Park Service History with landowners and KELO-Type Condemnation:
Conservation and Reinvestment Act (CARA HR-701)
---
More of same in YOUR future: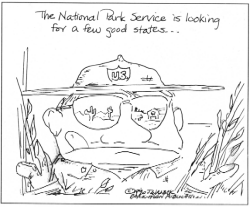 Read Summary of National Parks and Conservation Association 8 Vol. Big Park National Park Plan proposed by Destry Jarvis, brother of new National Park Service Director Jon Jarvis.
Thousands Threatened!
---
Ghost Town Act of 2009
(HR 699)

Read our Email Alert: General Mining Law House Vote Alert
---
Clinton, Gore, Babbitt Gang Taking Over Natural Resources:
OBAMA NATURAL RESOURCES PLAN
Written for him by environmental groups
Click here for complete copy
They want a return to the bad old days of Bill Clinton and Bruce Babbitt's War on the West
More Info: ALRA ALERT #1
---


MAP of AREAS AFFECTED

Huge BLM NCLS Land Grab
Babbitt National Conservation Lands System (NCLS) means a National Park Type Overlay Over 33 Million Acres off BLM Land to hurt multiple-use and private property!
2009 Omnibus Federal Lands Bill
One of the largest land grabs in history. Includes over 150 different bills.

NLCS Background Information HR5151
More Background Information HR5151
Omnibus Bill Sponsor and Bill List
---